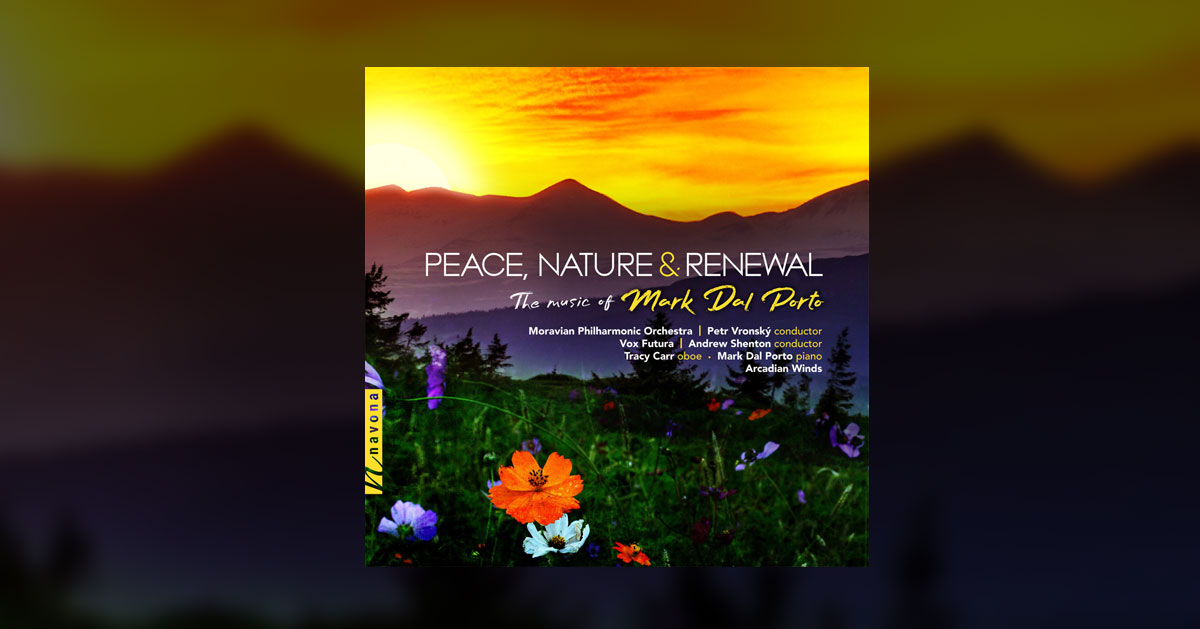 Peace, Nature & Renewal Album Review – Cinemusical
Share this post:
Peace, Nature, and Renewal: The Music of Mark Dal Porto
Originally posted on Cinemusical
Mark Dal Porto teaches at Eastern New Mexico University. His work has received wide recognition in a variety of genres, several of which are represented on this new collection of his music. The current release includes two of his orchestral works, a woodwind quintet, music for oboe, and several choral pieces creating a varied program to introduce his music to a broader audience.
The two orchestral works frame the other material. The opening Song of Eternity takes its inspiration from an ancient Chinese text. After an almost Copland-esque opening, the music begins to take shape as a more Neo-Romantic tone poem with some striking orchestral writing that grows slowly until it nearly explodes from the orchestra. The final moments bring us back to a more reflective quality in this quite evocative work. The concluding Mystic Mountain is a nature postcard following a hiker who climbs to discover the great panorama in what is likened to a spiritual experience. This too has a Copland-esque quality with a touch of romanticism that lends the music a more cinematic quality. Both these pieces are quite strong orchestral works.
Three works for chorus are also included on the album. They each explore specific musical realms. Modal harmony inflects the Middle Ages in the first piece, I Seek Rest for My Lonely Heart. This connects to the opening work as it also is inspired by an ancient Chinese text. "When Your Song Rang Out to Me" uses a text by the romantic poet Clemens von Brentano. The music here stays more closely to a more American modern style with extended harmonies. The final choral piece on the album is a choral rondo set to a Renaissance text, Spring, the Sweet Spring. The style here builds a bit on the previous work with a sense of more infectious joy with bright harmonic ideas. In some respects, it feels a bit like a Vaughan Williams setting.
The two works for winds are equally interesting. First is a Romance for Oboe and Piano. This is a very moving work that has a more romantic feel with moments of plaintive solo work against a more modern harmonic language that adds a sense of darkness at times. There is a rather beautiful harmonic progression that recurs at times adding a bit more romantic touch to the music. The music has these beautiful moments of more tonal harmony that move out of the more dissonant sections in a way that really captures the ear. The other wind piece is a quintet. The Exotic Animals Suite is cast in three movements that explores first birds, then reptiles, and finally, cats. The suite gives listeners a chance to hear some of Dal Porto's more experimental and humorous explorations. The bird calls here are created using a variety of crowing techniques from the various reeds. Additional techniques such as multiphonics and using key slaps for rhythmic ideas along with slides and glissandi add to the descriptive quality of the music. In the central movement, a more sinuous idea snakes about and is given a fugal treatment with a variety of techniques added to accent the subject as the five voices explore the idea. The final movement allows for a a faster-paced scherzo. The music works as a more intense piece for quintet exploring the interesting timbres of the instruments in a descriptive language.
As an introduction to Dal Porto's music, this release gives listeners a good overview of stylistic approaches and technique. His orchestral music is going to be a real plus for many as are the choral works. There is a lot of fine music here with strong performances here. Despite the different recording dates and venues, the album is equally well-engineered and equalized.